fix bar
fix bar
fix bar
fix bar
fix bar
fix bar
CURRICULAR ACTIVITIES
---
Clubs:- organised ciub Activities bring together students who wish to utilize their energies constructively. one has to keep the mind within humanity to learn. their tasks are purposeful and meaningful the various cups in the school are the science club, social service club. Quiz clubs
EXTRA CURRICLAR ACTIVITIES
---
"New Gen school" has provided many facilities to the student for all around development of the
Personality. participation in the extra curricular activities gives students opportunities for expressing their talents and creativity
SPORTS AND GAMES
---
Sports and games are compulsory and are an integral part of school life The school provides facility for games such as Cricket. Kabadi, Kho Kho, etc to strength students fitness, will power, guts and to improvise logical and analytical thinking through games like chess, carroms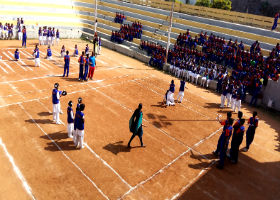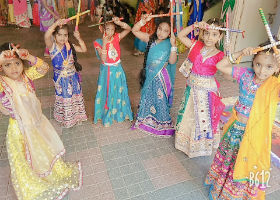 Dussehra
The festival to celebrate the victory of good over evil. Newgen celebrated Dussehra with a lot of fervor and ardor. Students dressed up in a beautiful traditional outfit. The program began with a prayer and message on Dussehra. This was followed by bhajan "Ram Sluti" by our teacher Mrs. Manjula and presentations on why we celebrate Dussehra.
Bathukamma:
Festival, one of the biggest festival in Telangana was done with a great pomp and gaiety participants visibly showcased their talent exhibiting how Bathukamma are prepared. The programmers concluded with the students, teachers and the principal, joining in the playing Bathukamma.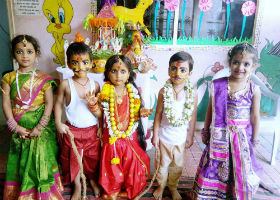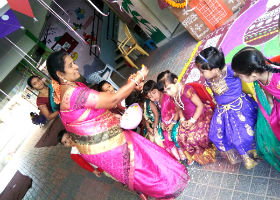 Pongal Celebrations
As a mark of respect to the cattle,the farmers best friends,the third day of pongal festival is celebrated as 'mattu Pongal','kaanum pongal' Marks the end of the four day celebrations
An occasion that marks joy and cheer brings along with it everything that is best just look at the joyful faces of our children just look at the joyful faces of our children enjoying the grand pongal carnival at Newgen campus and also our KG Kids Gearing up for pongal in a spectacular way !!!
Warm welcome to "Ganapathi Bappa"
In haven lord Ganesh will establish the predominance of gods, on the eath that of people, in the nether world that of serpents and anti-gods. A hymn from Sri Bhagavat- Tathra
Students enthusiastically welcomed the younger son of lord Shiva and pravathi amidst them. the students were also learnt to make eco-friendly ganeshes. Five days teachers and students offered their prayers & Bhajans and prasadam. The programme concluded on a happy note with the entire school eagerly dancing and ceremoniously bid a farewell to Ganesha with "Gnaesh Nimarjan.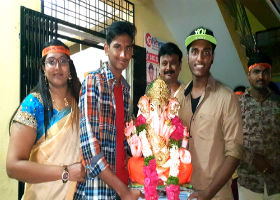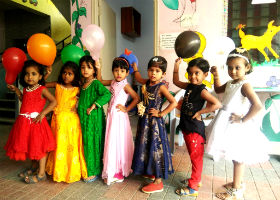 Colours day celebration
The kindergarten students of Newgen kids celebrated their colour Day with fun and enthusiasm in the school premises.
All the children from the K.G department and their teachers were dressed colourfully to celebrate this occasion. The classrooms too were decorated with different colours to welcome our children. Our tiny tots looked beautiful with their coloured attires.
Mrs.Swetha our principal was very happy to see the little children enjoying as well as learning through colours day activities.
Eye Camp Program
Telangana Govt, has launched "kantivelugu" program to achieve "Avoidable Blindness Free "status. The Govt. has decided to take up Universal Eye Screening of citizens to treat refractive error. Newgen actively participated in the programme involving the whole strength Nursery to X classes including testing for the teachers.